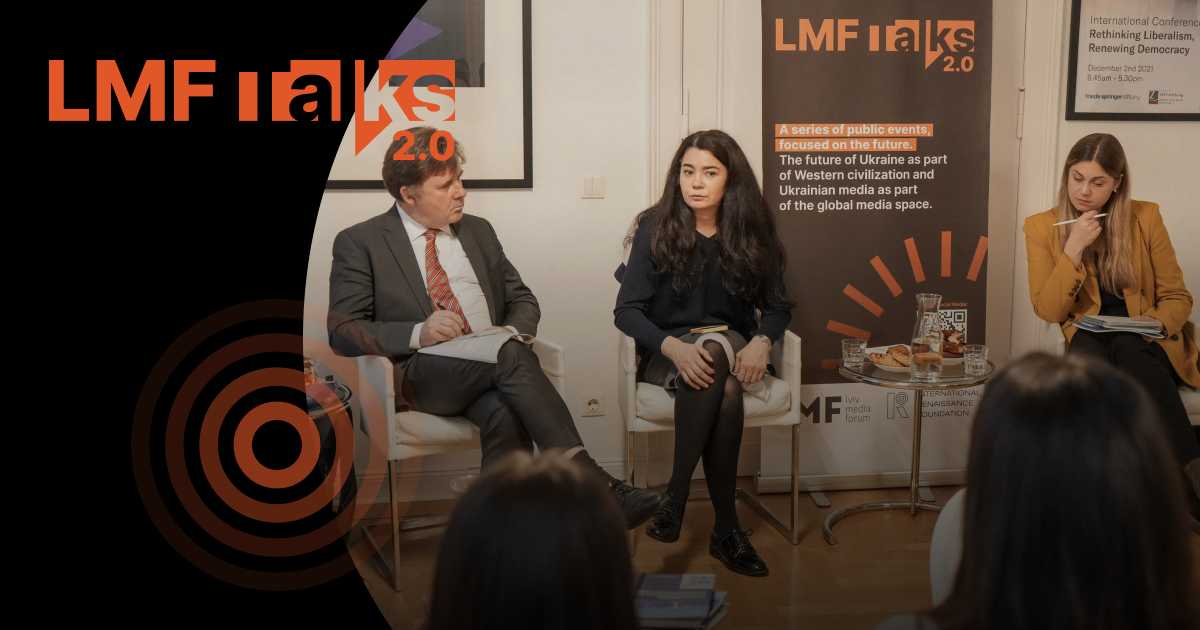 Sevgil Musayeva, Maria Tomak and Wilfried Jilge on the future of Crimea
It's been almost a decade since Russia illegally occupied Crimea. As Russia continues to wage its full-scale war against Ukraine, the peninsula is both a strategic military base for Putin's regime and the ultimate goal for Ukraine as it moves to liberate its territory.
A decade of Russian rule has harmed the peninsula and especially Crimean Tatars [indigenous people of the Crimean peninsula], who have been subjected to repression and have been once again forced to leave their homeland en masse. Although liberation of Crimea remains a long-term goal, it's important to consider how Ukraine will reintegrate the region after de-occupation and how the international community can help, while ensuring that Russian aggression doesn't go unpunished.
The future of Crimea was at the center of an LMF Talks event held by Lviv Media Forum in Berlin on October 26. Moderated by Marieluise Beck, Senior Fellow of the Center for Liberal Modernity. The discussion featured:
Sevgil Musayeva, editor-in-chief of Ukraine's top online newspaper Ukrainska Pravda and one of Time magazine's top 100 most influential people of 2022;
Maria Tomak, head of the Crimea Platform Department at the Mission of the President of Ukraine in the Autonomous Republic of Crimea;
Wilfried Jilge, Associate Fellow at the German Council on Foreign Relations (DGAP), expert on Ukraine and Wider Black Sea region.
We picked key highlights from the discussion, edited for length and clarity.
Russian repressions in Crimea started in 2014, and the world did not pay attention
Sevgil Musayeva: "In 2014, Russia started with the same [repression] tactics in Crimea [as Russian regimes did in the past]. First, they forced all independent Ukrainian media to leave; 18 outlets left in the first year of occupation. They banned Crimean Tatars' Memorial Day [that commemorates victims of the deportation during the Second World War]. In 2016, just two years after the occupation, they recognized Mejlis, the representative body of the Crimean Tatars, as an extremist organization. In Mejlis, we have 20,000 members… all of them became a target".
These violations have deep historical roots. Maria Tomak recommended reading the report by Dunja Mijatović, Commissioner for Human Rights of the Council of Europe, on the human rights situation of Crimean Tatars in the peninsula. "What amazed me is that she started the report from the 18th century, from the first annexation of Crimea. That shows very clearly the pattern of Russia eliminating Crimean Tatars since the first occupation".
But reports about violations of human rights in Crimea, about political prisoners from human rights defenders, were not taken seriously before the full-scale invasion, Sevgil Musayeva believes. The first victim of Russian aggression in Crimea was Reşat Ametov; he was killed in March 2014 just for organizing a peaceful protest. "Now we have… thousands of civilian victims in Ukraine, a big humanitarian crisis. These stories are connected. It started in 2014, it started with the murder of Reşat Ametov. Because nobody took it so seriously, nobody bore the responsibility, we're now here — with all the crimes and violations of human rights that Russia committed in Ukraine".
The liberation of Crimea is critical not only to Ukraine but also to global security
Sevgil Musayeva: "[The future of Crimea is connected to] security in the Northern Black Sea Region. [With Crimea] Russia has a military base in Black Sea. Today Russia uses it as a weapon against Ukraine, launching missiles from occupied Crimea. But tomorrow, it can also use this military base in other conflicts. In this region, we have countries that are members of the European Union, that are members of NATO. That is why the "Ukrainian crisis", as it is often defined in the West, cannot be solved without solving Crimea".
Wilfried Jilge: "If Russia has Crimea under its control, it can cover [with cruise missiles and other long-range weapons] all coasts of Black Sea and have a power projection against NATO in the Eastern Mediterranean".
Wilfried Jilge: "[Controlling] Crimea has two aims for Russia. First it is, even if the war stops, to permanently destabilize Ukraine. Second, it is part of the restitution of the so-called imperial sphere of influence of Russia. [Crimea is] a springboard to then go [seize more territory]. It is very crucial to understand that the Middle East and the Eastern Mediterranean, where the United States Sixth Fleet is crossing, is also a target. So [Crimea] is not about only the security of Ukraine, it is about our common security."
Crimea will eventually be liberated; Ukraine and the international community should be prepared for a long and complex reintegration process
Maria Tomak says that Ukraine is already preparing for de-occupation of Crimea and for the reintegration process that will be happening afterwards. We don't yet know how the liberation of Crimea will happen precisely — "hopefully, Russia will just get out of Crimea at some point, but we understand that there might be a military operation by the Armed Forces of Ukraine" — but it's critical to be prepared for what comes after.
Maria Tomak: "Next day after de-occupation, what are we going to do as a state? We have tons of problems, of course.
We have the whole administration issue — how do we administer this system? We need 50,000 people for the administration. We need to find the [right] approach, we cannot just bring all the people from mainland Ukraine. We need to go after people who have been [working for occupying administrations] and have been engaged in war crimes, crimes against humanity. But then, of course, we need to engage local people who were not cooperating with the occupying authorities in the administration of Crimea.
There is a huge issue with the justice system. So far, occupiers' courts produced 1.2 million decisions in 10 years. Of course, the Ukrainian justice system will not [have the capacity] to review all of them. We need to invent some blanket approaches, such as not accepting decisions related to nationalization of the property for the Russian state and not accepting decisions within the politically motivated cases.
We have a big problem with property rights — people are buying and selling properties, new objects are built, old objects are destroyed.
Of course, one of the most complicated issues is dealing with humanitarian space. [We need to deal with] ten years of really harsh brainwashing and militarisation, including among children, a total reshaping of the public space and adjusting it to Russian propaganda proposals…
One more issue that inevitably will pop up is that Russia brought at least half a million, perhaps up to 800,000 of Russian citizens in Crimea since the beginning of occupation… We cannot afford to leave them in Crimea and pretend that everything is fine. We understand that it's not possible. But, of course, Ukraine is not going to make massive deportations that contradict international law. We will definitely make these people leave Crimea, but if there are those who think they have a legitimate right to stay in Crimea, they might apply [for a permission to do so]. This mechanism should be invented".